MEDICATION ERRORS: TECHNOLOGY COMING TO THE RESCUE
A host of new information products may hold the promise of a safer healthcare world.




Medication Errors: Technology Coming To The Rescue




L. Michael Posey
Pharmacy Today 8(2):1, 11, 23, 2002. © 2002 American Pharmaceutical Association


Bevy of New Software, Devices
Some 90% of the medication mistakes made by adults occur when people simply do not know that they have the wrong information, have grabbed the wrong drug product, or are standing by the wrong patient. Technology -- when properly developed, programmed, tested, and implemented -- can alert health care professionals at the moment a mistake is about to occur, causing them to stop for just a moment and think about what they are about to do. A host of new information products -- holding the promise of a safer health care world -- are now available to prescribers, pharmacists, nurses, hospitals, and other health care facilities.


Computerized Order Entry With Decision-Support Software
After reading the September 2001
Pharmacy Today
article on computerized physician order entry (CPOE) at Boston's Brigham and Women's Hospital and a November 2001 article on medical use of personal digital assistants (PDAs), perhaps you thought, "Yeah, but these are just flashes in the pan. The docs around here will never tap on screens instead of scrawling on those prescription pads."
Well, it may be time to think again. Consider these trends:
According to the Leapfrog Group, a dynamic consortium of Fortune 500 employers that is raising the bar for health systems that want to bid on huge employee health contracts, 3.3% of hospitals already have CPOE, and 30% have specific plans in place to implement the technology by 2004. CPOE is one of three practices that the Leapfrog Group is pushing health systems to implement in their hospitals.


Pyxis, the Cardinal Health subsidiary that makes the automated dispensing machines now found in 4,500 hospitals and other facilities worldwide, has installed its 100,000th unit.


California required all general acute care hospitals, surgical clinics, and specialty hospitals to submit by January 1, 2002, plans for reducing medication errors. After approval by the state's Department of Health Services, the steps specified in the plans must be fully implemented by the first of 2005. In a model plan promulgated by a key trade group in the Golden State, the California Institute for Health Systems Performance divided strategies for im-provement into two groups, technology and nontechnology, and many of the responding hospitals likely listed CPOE as a prime technology strategy.


In a winter 2002 issue on patient safety challenges, the Journal of Healthcare Information Management featured an article titled "Clinician Order Entry with a Pharmacy Interface," and nearly all contributed pieces focused on some component of information technology as a patient safety solution.


For CPOE specifically, the availability of commercial software was evident to anyone who ventured just 10 feet into the exhibit hall of the Annual Midyear Clinical Meeting of the American Society of Health-System Pharmacists (ASHP) in New Orleans in early December. Cardinal Health's Pyxis VisualMed software and McKesson's Horizon Expert Orders were two of the more prominent displays in the hall. All in all, some 13 vendors now sell CPOE software, according to a marketplace guide developed by First Consulting Group and available on the Leapfrog Group's Web site (www.leapfroggroup.org).
Commercial CPOE software goes far beyond simply eliminating poor handwriting as a source of medication errors. For instance, McKesson makes these claims about its software, which is based on a CPOE system developed at Vanderbilt University in Nashville, Tenn.: "Horizon Expert Orders assists physicians in decision making by presenting clinically relevant information about a patient's condition along with treatment protocols and evidence-based guidelines agreed upon by the organization's physicians."
In an interview with
Pharmacy Today
, a Pyxis spokesperson noted that VisualMed is a clinical informatics system that provides expert order entry, real-time decision support, integrated clinical charting, patient safety event tracking, and outcomes report generation and data storage.
Still a Need for Pharmacists?
But pharmacists must remember to warn health care decision makers that CPOE is not the panacea it appears to be in companies' marketing hype. While CPOE eliminates one set of errors, new types are created, including common "point and click" mistakes made when the physician selects the wrong items from lists on a screen.

This point was driven home in January, when ASHP issued a Call to Action concerning new standards from the Joint Commission on Accreditation of Healthcare Organizations (JCAHO). JCAHO, in proposed revisions to its medication-use standards for accreditation of hospitals, is considering exempting facilities with certain CPOE systems from requiring a pharmacist's prospective review of medication orders. In addition, the proposal has this phrase added to the beginning of several standards, "If pharmacy services are provided by the organization" (emphasis added by ASHP).

Henri R. Manasse Jr., ASHP's executive vice president and chief executive officer, wrote to the organization's affiliated state chapters and hospital/health-system pharmacy directors, "ASHP remains a strong advocate for the use of CPOE as a way to improve safety, efficiency, and accuracy of the medication-use process. However, it is not safe to view CPOE as a replacement for the critical role of the pharmacist to ensure the accuracy and appropriateness of orders entered into a CPOE system. Furthermore, current technology has not reached a level of maturity and sophistication to safely allow for this important step to be bypassed."


Bedside Technologies for the Nurse
Even when the correct medication has been ordered and delivered to nursing units in health care facilities, the patient's bedside is a final place where opportunities for error have remained unchecked.

Use of bar coding to identify both patients and products should soon be the standard in hospitals, thanks to a move by FDA to require these on all prescription drug labels, including unit dose medications. The CPOE vendors mentioned above already offer bar code-based features in their patient safety software, and the universal availability of bar codes on hospital medications will enable institutions to use these features more frequently.

Smart I.V. pumps are another new option for the patient's bedside. In announcements during the ASHP meeting, both McKesson and Baxter focused on ways to guard the patient from medication misadventures involving I.V. therapy.

McKesson and Alaris Medical Systems are comarketing Alaris's line of Medley Medication Safety Systems, which incorporate the Guardrails Advisory System. As shown in Figure 1, the nurse begins the process by scanning the patient's wristband and the I.V. admixture using a PDA. Any mismatch in patient and drug orders is signaled.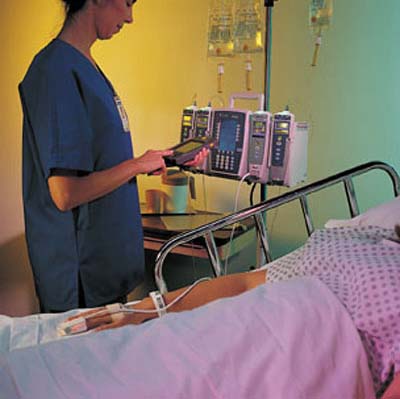 Figure 1. Before beginning an I.V. infusion, patient care staff uses a wireless handheld device to verify that the correct admixture is being started on the correct patient.


Each Medley pump can accommodate four different I.V. lines, and several pumps can be stacked on an I.V. pole (see Figure 2). The Guardrails modules can be programmed with dosing limits or cautions for 50 different medications in a given patient care area, and up to 10 different patient-care areas can be specified. This way, modules are interchangeable throughout a facility, and patient care staff -- including floaters and temporary staff -- will find the same set of commands no matter where they are assigned on a given day.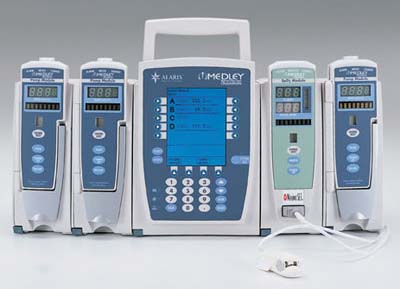 Figure 2. The Medley Medication Safety System can incorporate four Guardrails modules, including a pulse oximeter that alerts staff when a patient's heart rate or oxygen tension are outside facility-set limits. The I.V. administration modules alert the user if medical staff-specified limits for any of 50 medications are exceeded.


In addition to warning the nurse if the requested infusion rate is outside specified medication dose ranges (based on the patient's weight, the chosen flow rate, and the admixture's drug concentration), Medley/Guardrails incorporates a pulse/oximetry module. If the patient's heart rate or oxygen tension go past chosen limits, the nursing staff is alerted so that the patient can be examined.

The Baxter Colleague Guardian Feature is also available on its line of Colleague Cx infusion pumps. It permits hospitals to set customized dose limits for more than 90 different medication protocols, based on determinations made by the facility's pharmacy and therapeutics committee. Visual and audible alarms warn the operator when doses are outside these limits. The Colleague Cx pumps are the only ones available that use color screens in the user interface, and Baxter's system incorporates an Autros Point-of-Care Patient Management System that links CPOE, the inpatient pharmacy module, a wireless nurse charting system, and an electronic patient medical record. The Alaris Guardrails system has similar capabilities.

In the end, the goal of all these efforts is to turn the "wrongs" into "rights" -- right patient, right drug, right dose, right route, and right time. To meet this traditional pharmacy standard, technology is helping -- in many cases helping a lot -- but it will not be the end of the story.




© 2001-2009 RxRama ---- All rights reserved.